888-69-KELLY
888-69-53559
where your 4th call is FREE
Hot Five with Billie Blue – Blond Cumslut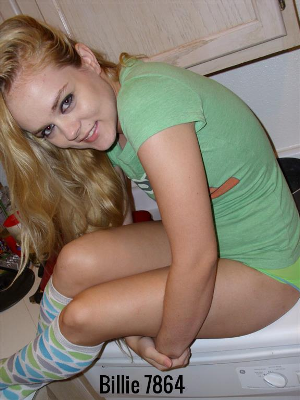 What Turns You On?
I've been with women in threesomes and a few multi partner situations (I love to party, and my friends and I get super wild lol, I guess I might be wilder then most, which is why I'm also on here!!!)

But I HAVE to have a man there, because I have NO intention of giving up boys EVER!!!
If someone is there to have fun, I think fun is what turns me on most. Wild situation, being spontaneous and living in the moment are totally my thing, I might be too impulsive at times, but I rather do naughty things than have regrets later in life *Giggle* *Snicker* *Snort* I'm a "It's better to regret what you have done than what you haven't." kinda girl all the way.
If I'm talking to someone on the phone then REAL-LIFE stories, theirs and mine, and all sort of taboo calls. I totally get off on things I'm NOT supposed to do. I like to hear about those naughty filthy things my callers did…who they were DEFINITELY not supposed to do. ESPECIALLY, bisexual men who sneak around to get some cock behind their wives back. That drives me nuts! It's so filthy!!!!

What Do You Plan to Scratch Off of Your Filthy Bucket List?

-Sex in as many exotic locations around the world as possible
-Sex in as many public places as possible
-Live in a nudist colony and have sex in the open where everyone is watching and/or participating
-Sex on stage like a sex show I saw once in Krakow, Poland, I wanna be up there and be watched!!!
-Sex with a famous movie star. I'm in film school so you bet your sweet derriere I'm totally working on THAT one
-I wanna sneak into a hot horny married guy house and fuck him in the kitchen while his wife is somewhere in the house
-Sex in a hot air balloon
-being gang banged by as many guys as possible while my boyfriend is watching/participating
When Do You Like to Have Sex?
I get horny in SUCH a weird pattern and moments throughout the day to such a distracting extent I have to go off somewhere to masturbate, even if I am in class. It gets so urgent with me! I actually carry a sex toy with me whenever I go, so I can get my orgasm fix faster. It's usually faster with a powerful vibrator, especially on the go! (lol, orgasms on the go, that's meeeeeee! hahahaha)

I thought I was super abnormal but after I became a Kelly Girl, I was totally happy to hear that lots of people feel the same way and it's the best feeling in the world to masturbate with someone on the phone, knowing they are just as hot and horny as you are. PLUS, the rush of masturbating with strangers that you can be TOTALLY honest with about your fantasy and they can be TOTALLY honest with me about theirs is the BEST. FEELING. EVER. Not to mention earth shattering orgasms. I am the luckiest girl in the world right now! I can be as freaky as I want with anyone that calls me, and I NEVER have to masturbate alone again!!!!

How Do You Prefer to Cum or Give Orgasms?
Well, cumming for me is super easy, I orgasm on my own several times a day on most days. I use my finger, or a toy if I masturbate. I love using a man's face, tongue, fingers, and cock in my hot young pussy while he really goes wild on me, I will squirt in his face multiple times. I'm a total gusher!!!
I give orgasms the way my partner wants them, I listen and try to do the best I can to make them happy, make them explode, and make them totally lose control.
I love making men ADDICTED to me because being someone's favorite drug is the biggest rush and power play there is and it makes sex a million times more intense. (I may look like an innocent angel, but NOPE. I'm totally NOT. I can PLAY an innocent inexperienced angel if you want me too, though, *wink*)

Why Should Callers Ring You?
Because I'm as horny as they are (probably more)! I am willing to do whatever it takes to make THEM AND MYSELF cum in a way that will make their whole existence feel spent with orgasmic satisfaction throughout the day. My callers ALWAYS return for more!!!
I love kinky role play, taboo play, sex that pushes all limits, dirty life stories (yours and mine), and masturbating with strangers whilst bringing our fantasies alive together. I may be young, but I've been around the block a few times over. Hey, I started very young! *wink* (I bet you wanna hear ALL about that now, don't you my filthy perverts. lol).
I'm always very excited to learn new things every day, so please share with me, and teach me! I will do the same with you. We can both learn and experience something new and have crazy, kinky, filthy, fun in the process! What could be better than that?
Curious about Billie Blue? Visit her page here! Want to talk to naughty Billie Blue? Dial 888.69.KELLY (53559) ext. 7864 and Satisfy Your Desires with her now!