888-69-KELLY
888-69-53559
where your 4th call is FREE
Sexy Redhead Pleases Hot Boss

I hurried to my boss's office, regretting my decision not to grab my umbrella before dashing out on his requested coffee run. What had started out as a few raindrops had turned into a downpour and I was drenched. My heart pounded as I knocked on the door. I loved my new job and pleasing my handsome boss was my number one goal.
"Come in."
I opened the door to see my boss's eyes widened in surprise. "I got caught in the rain. Don't worry your coffee is still hot."
Phone Kelly Girl Holly
Mr. Riker smiled. "I'm not worried. Look at you. You're soaking wet."
"Oh, it's fine." I glanced down, embarrassed to see my hard nipples visible through the silky fabric of my white blouse. "Here's your coffee. Is there anything else you need?"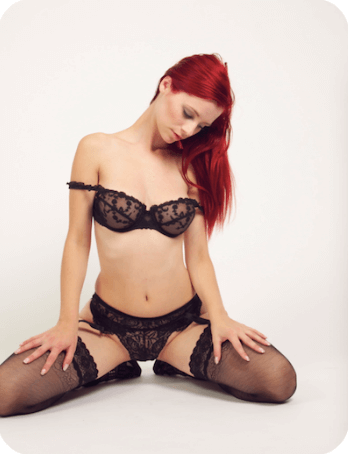 Mr. Riker took his coffee from my outstretched hand. "No, but you need a towel, Holly. Hang on."
"Mr. Riker, it's okay." I sucked in a breath as he ignored me and moved toward his private bathroom. It felt strange and exciting being in his office alone.
"Has everyone else gone home?" Mr. Riker asked.
I nodded as he placed his coffee on his desk and approached me with a fluffy white towel in hand. Heat rushed to my cheeks at the dirty thoughts racing through my head as his gaze dropped to my tits. I held out my hand for the towel, anxious to use it and leave. "Thank you, Mr. Riker."
"Holly, just call me Zack."
I swallowed hard as my boss waved off my hand and began rubbing the towel on my hair. What the hell was he doing and why wasn't I moving away? I felt transfixed by his good looks and commanding presence.
"Put your arms down, Holly."
I obeyed then gasped as he brushed the towel over my breasts. He was making me so wet.
Mr. Riker shook his head. "Fuck. You're so sexy, you know that?"
"Umm…" I managed a smile, pleased by his husky compliment. "Thank you, Zach. I should go."
"Yes, you should but do you want to?"
The dark hunger in his eyes made my heart beat faster. "No, I don't." This was wild and unexpected, but I was loving every naughty minute of it!
"What do you want, Holly?"
Desire coursed through my blood as I glanced down at his impressive hard-on. "You know what I want."
"Say it."
I tossed my red locks over my shoulder as I reached out to rub his hard-on. "I want you to fuck me, Zack."
"Take off those wet clothes. I want to see your gorgeous body."
My pulse quickened as I stripped out of my damp clothes. I couldn't believe I was standing naked in front of my boss!
"You're so beautiful. I love filthy redheads."
"Thank you, Zack." I loved the lust I saw in his eyes as he teased my nipples. His touch made me moan with pleasure as he backed me up against his desk. "I can be very filthy."
"Do you know how much I've wanted this?" Zach unzipped his jeans then pushed them down, revealing his thick cock.
"No. Tell me."
"I've wanted to bury my cock inside of you from the moment you started working here."
"Mmm…" His words thrilled me as he hiked up my skirt, revealing my lacy black thong. I turned around in my black stilettos, placed my hands on his desk then stuck my ass out. I wriggled my hips as he yanked my thong to the side and nudged his cock between my bum cheeks. "Fuck me hard, Zach." I cried out when he filled me a second later, stretching my wet pussy.
"Jesus, Holly. You're so damn tight!"
I could only moan with delight as he began to fuck me with hard deep strokes. I gripped his desk, overwhelmed by the erotic sensations winding through my body as Zack pounded my slick cunt.
"I'm going to cum." Zack growled, giving me one more thrust before pulling his cock from my pussy. "Swallow my load, Holly."
I quickly turned and fell to my knees, happy to please him and to taste his spunk. I opened my mouth as he stroked his pussy-drenched dick in front me. "Give it to me. I want to taste it."
Zach swore. "Swallow it all!"
I did as I was told, hungrily swallowing each spurt of cum he gave me. Breathless, I pouted when he finally helped me up. "Zach, I didn't cum."
"Don't worry, my little redheaded slut." Zack lifted me onto his desk and spread my legs wide. "You will many times with my mouth, fingers and cock."
I moaned again as he dipped his head to my wet cunt and kissed my needy clit. Oh, yes…I knew my hot boss make good on his filthy promises!